Social Media Marketing
Whether you love it or hate it, there is no denying that social media is an important and effective tool for your business if used correctly. An ever-growing number of people's interactions with brands and businesses are occurring in a digital space. Effectively leveraging social media will allow your business to maintain contact with current customers, entice new ones, and be more approachable in general.
Retain Highly Valuable Repeat Customers
Repeat customers are extremely important for businesses of all sizes. In fact, a returning customer is nine times more likely to purchase from you than a new customer. Social media is a great way to keep these extremely valuable people connected to your business. Keep them informed of new products, services, and deals, so they return to you time and time again.
Improve Brand Recognition, Visibility, and Trustworthiness
Social media is also a great tool for boosting your brand recognition. By continually updating social profiles across various platforms, you can increase your company's visibility while also demonstrating your authority and credibility. This, in turn, will attract new customers and provide them with a great resource to learn from and about your company.
In order to bring in more customers, you want to cast a wide net, and intelligent use of social media will let you reach customers you otherwise wouldn't.
People often use social media to ask for and find recommendations. We tend to trust opinions from people we know more than from people we don't. Having customers who advocate for your company to their social networks — by sharing your posts or linking to your page — will greatly help to improve your credibility.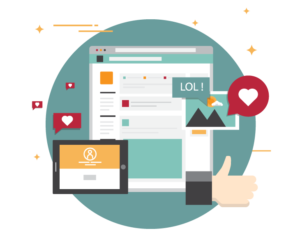 Show Your Company's Culture
People feel more comfortable purchasing products and services from companies with which they feel a human connection. Social media is a great way to show a different side to your company by posting "behind the scenes" content. Sharing pictures of a company party, celebrating a business milestone, and sharing your company culture are all great ways to humanize your company through social media. These types of posts are relate-able for customers and will bolster the connection they feel with your business.