Social Media Marketing
Unlock the power of your social presence with our Eugene-based Social Media Marketing services. At Ruby Porter Marketing & Design, we understand the unique dynamics of the Eugene area and harness them to boost your brand's visibility and engagement.
Our expert team creates tailored strategies that resonate with the local community while aligning with your brand's goals. We specialize in running targeted campaigns for product launches, events, and business growth announcements. Whether you're in Eugene or Springfield, we're your local partner for making a lasting impact.
Retain Highly Valuable Repeat Customers
At Ruby Porter Marketing & Design, we understand that retaining highly valuable repeat customers is the lifeblood of any business. Our targeted social media campaigns are designed to engage, nurture, and rekindle relationships with your most valued clientele. Through personalized content, exclusive offers, and strategic messaging, we keep your loyal customers coming back for more. By harnessing the power of social media, we create campaigns that resonate with your audience, enhancing customer loyalty and driving ongoing revenue streams. Let us help you build lasting connections and cultivate brand advocates among your most cherished customers.
Drive Awareness and Excitement for Your Upcoming Product Launch!
Improve Brand Recognition, Visibility, and Trustworthiness
Social media is also a great tool for boosting your brand recognition. By continually updating social profiles across various platforms, you can increase your company's visibility while also demonstrating your authority and credibility. This, in turn, will attract new customers and provide them with a great resource to learn from and about your company.
In order to bring in more customers, you want to cast a wide net, and intelligent use of social media will let you reach customers you otherwise wouldn't.
People often use social media to ask for and find recommendations. We tend to trust opinions from people we know more than from people we don't. Having customers who advocate for your company to their social networks — by sharing your posts or linking to your page — will greatly help to improve your credibility.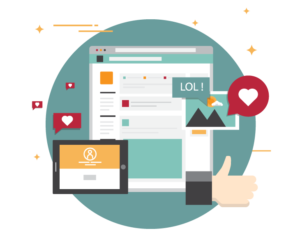 Show Your Company's Culture
Your company's culture is a valuable asset that sets you apart from competitors and attracts like-minded employees and customers. Our social media marketing strategies go beyond traditional advertising to showcase your unique culture. Through engaging storytelling, behind-the-scenes glimpses, and employee spotlights, we humanize your brand, making it relatable and appealing to your audience. By highlighting your company's values, mission, and vision, we connect with potential customers who share your ethos.
Moreover, we create content that spotlights your team's achievements, collaborations, and camaraderie, reinforcing your organization's vibrant culture. Through interactive posts, polls, and Q&A sessions, we foster a sense of community, encouraging open dialogue with your audience. By consistently demonstrating your company's culture on social media, you strengthen brand loyalty, build trust, and resonate with customers who align with your values.
Our approach extends to celebrating milestones, recognizing employee contributions, and sharing the causes and initiatives your company supports. We leverage social media to broadcast your corporate social responsibility efforts, philanthropic activities, and community involvement, further humanizing your brand and inspiring your audience.
By letting your company's culture shine through on social media, you not only engage your existing followers but also attract like-minded individuals who can become long-term customers and advocates. Let us help you authentically convey your culture, creating connections that drive loyalty and growth.