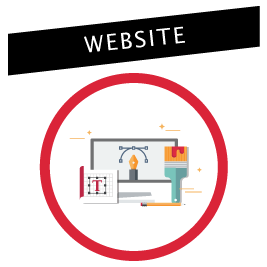 Website Design and Development
Is your current website presenting your business in the best possible light? Does it provide an optimal user experience on mobile devices? If not, it's time to think about a website makeover.
At Ruby Porter Marketing and Design, we understand the importance of a website that not only looks great but also functions seamlessly across all devices. Whether you're considering a brand-new website or a revamp of your existing one, our team of skilled website designers is here to assist you. We collaborate closely with you to determine the essential features and style that will elevate your online presence.
Content Management Systems (CMS) We Recommend
WordPress
WordPress has evolved significantly, transitioning from a humble blogging platform to the world's most dominant Content Management System (CMS). It's user-friendly, enabling easy setup, management, and updates. At Ruby Porter Marketing and Design, we harness the true potential of WordPress to create tailored solutions for your business.
We believe in flexibility. Our choice of themes is 100% customizable, freeing you from layout restrictions or preset theme designs. WordPress boasts an expansive library of plugins and add-ons, ensuring virtually limitless possibilities for your website's functionality.
Join the multitude of businesses already benefiting from WordPress's capabilities. Discover the flexibility, scalability, and innovation it offers, all thoughtfully tailored by Ruby Porter Marketing and Design to meet your specific needs.

Craft
Craft has quickly become one of our favorite CMS's to use when building new websites as it gives our developers the building blocks necessary to construct a website from the ground up. Our designers assist in designing layouts and establishing user paths, creating the blueprints the developers work from. This CMS gives us both the freedom and the tools to construct a website exactly as we want it without any superfluous functionality. Craft is a great option for those looking for lots of customization for their website.

Magento2
Magento was built from the ground up to serve as an e-commerce CMS that allows your site to sell a large number of products without sacrificing speed. WordPress and Craft are capable of being used for e-commerce, but they have difficulty when there are a large number of products involved. If you are planning on selling many different products online, Magento is what we would recommend.

Others
While Craft, WordPress and Magento2 are the CMS's we most often use, we have the ability to work with others and to create custom applications. We have used Laravel and CodeIgniter to create PHP frameworks for custom web applications. Share with us what you have in mind, and we will give you our best recommendation for the tools necessary to get the job done.
If you website is lacking in functionality or style, see how we can help!