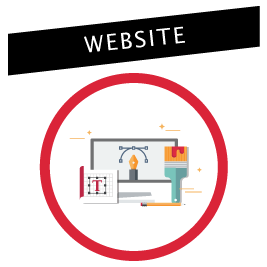 Website Design and Development
Is your current site giving the positive reflection of your business that you want it to be? Does it look great and function properly on a mobile device? If not, it might be time to consider a renovation.
We work with you to identify the key functionality and style you'd like your site to have. Whether you are looking to start fresh with a completely new site or just want to give your old one a face-lift, the professional website designers at Ruby Porter Marketing and Design can help.
Content Management Systems (CMS) We Recommend
WordPress
WordPress has come a long way, evolving from a blogging system to the most popular CMS in the world. WordPress is easy for you to learn, setup, manage and update.  We use themes that are 100% customizable, so you aren't limited to any specific layouts or theme settings. WordPress also includes thousands of plug-ins and add-ons which make about anything possible.

Craft
Craft has quickly become one of our favorite CMS's to use when building new websites as it gives our developers the building blocks necessary to construct a website from the ground up. Our designers assist in designing layouts and establishing user paths, creating the blueprints the developers work from. This CMS gives us both the freedom and the tools to construct a website exactly as we want it without any superfluous functionality. Craft is a great option for those looking for lots of customization for their website.

Magento2
Magento was built from the ground up to serve as an e-commerce CMS that allows your site to sell a large number of products without sacrificing speed. WordPress and Craft are capable of being used for e-commerce, but they have difficulty when there are a large number of products involved. If you are planning on selling many different products online, Magento is what we would recommend.

Others
While Craft, WordPress and Magento2 are the CMS's we most often use, we have the ability to work with others and to create custom applications. We have used Laravel and CodeIgniter to create PHP frameworks for custom web applications. Share with us what you have in mind, and we will give you our best recommendation for the tools necessary to get the job done.
If you website is lacking in functionality or style, see how we can help!