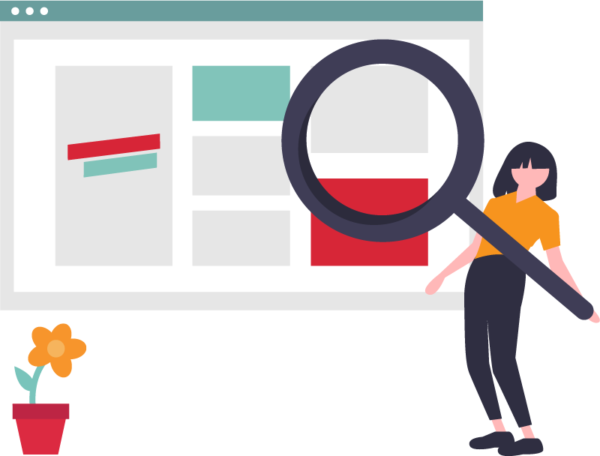 Understanding Paid Ad Campaigns: Options & Strategies
I'm going to come right out and say it: a marketing budget that invests in billboards, television commercials and radio spots, or so-called "traditional" marketing methods to increase brand awareness is soo yesterday. There! How bold.
But is it actually? It makes more sense for local businesses to use their marketing dollars to target the exact audience that they're looking to reach, where everyone is spending their time: the internet! This is especially true in our current climate–we've worked with a number of local businesses working to expand their digital presence in partnership with the Springfield Chamber of Commerce. When considering paid ads, you essentially have two (non-mutually exclusive) routes to take: advertising on Google, and advertising on social media.
Advertisements on Google are triggered by a set of search terms while the user is doing a search; ads are shown to you on the search results, in Google apps like Gmail, or on partner websites like Pandora. Ads on Facebook are shown in a user's feed on Facebook, Instagram or Messenger according to the data it has about your preferences, groups, interests, and behaviors. Not only is it important to understand the mechanisms by which the ads are shown, it's also necessary to ask yourself a few questions to decide on the right approach, in order to maximize the reach of your budget. Below, we outline three of these big questions, and how they affect your decision.
1. Who (and where) is your audience?
The first question to ask yourself is who your audience is, because that will impact the digital spaces they frequent on the internet. Almost everyone uses search to find information, but it's important to recognize who uses which social media platform, and how. For instance, the median age of Facebook users is about 40, with the most users (13%) in the 25-34 age range.  On the other hand, Instagram attracts more users in the 18-24 age range, with fewer users over the age of 34. Social media in general is more successful for B2C, whereas Google can reach both B2B and B2C audiences.
Second, you should map out your buyer's journey, which will help you decide which advertising channel to leverage. People who search for something on Google usually have a strong intent to buy that thing; if you are looking to capture users who are on the brink of purchasing a product or service, Google ads is a great choice. However, if you're trying to bring more awareness, or influence ongoing consideration of your brand, social media can target specific segments of users who have a need (known or unknown to them) for your product or service. It is possible that both platforms can fit your advertising needs; you can coordinate these approaches in various stages of the buyer's journey.
Quick aside: as long as you're considering the buyer's journey, take a moment to think about the type of product or service you're offering, or the niche that you fill, vis-à-vis the act of search. If you've got a novel, not-yet-trending product, a social media awareness campaign might be the right fit—because folks need to learn what to search for. Put differently, if there is very little to no search volume for what you're offering, then Google ads won't give you much volume. Using social media to target a certain demographic or type of lifestyle audience may be more effective than search terms.
2. What are your goals?
As alluded to in the section above, you should also (perhaps simultaneously?) consider what your goals are in running a paid ad campaign. If your goal is to increase brand awareness or generate more demand, Facebook ads are economical, and can be targeted to a specific user profile based on the information they've shared. There's more emphasis on the creative visuals for social media; if you have a beautiful product or a way to produce a clever video, you'll garner good attention. Social media ads are especially beneficial for eCommerce brands.
Conversely, if you're looking to capture an audience looking for a product or service like yours, who are poised to purchase, consider going with a Google search campaign. Make the most of all the headlines, descriptions, call-outs and snippets; you don't have much space to grab attention. There are also a number of other types of campaigns you can create with Google, such as shopping ads, display ads, and video ads that show on YouTube. While it takes some time and familiarity with Google policies, it is often worth the effort to pursue a shopping campaign: you'll set up a product feed in the Merchant Center and launch your products into search results via the top carousel that appears when searching for goods or gifts.
Do consider: Similar to emphasizing good visuals for social media ads, remember that Google ads refer people to a landing page on your website. You can spend time wordsmithing a great, attention-grabbing headline in a search ad, but if a user can't click the "Add to Cart" button because they have to spend time finding the desired product, you've lost them. Even if you're not marketing a product, make sure that there's a clear call to action (i.e., Fill out this contact form) so that you capture the lead.
3. What is your budget?
Finally, it is important to have some notion of what you will spend in order to accomplish your goals. Knowing what the normal rates of acquisition are for each ad forum is one place to start. While it varies quite a bit by industry, the average cost per click (CPC) on Google Ads is $2.69; on Facebook, CPC tends to cost less, with the average of $1.72. In many cases, the cost per conversion/cost per action (CPA) is also lower on Facebook, especially if your industry has highly competitive keywords on Google, such as law or insurance. As we've discussed, however, Google ads tend to perform better, because they reach users at the time of their purchase decision, whereas social media ads help you to grow your audience and awareness.
While it is true that you can turn ads on and off as you need to, most budgeting is on a monthly scale (setting a certain spending threshold per day). You could only run ads for two weeks, but Google's algorithm takes approximately 10-14 days to "learn" who the best candidates are to serve your ads to—so you should plan on a 2-week ramp-up for any ad campaign, perhaps at a lower budget than what you plan to spend. If you are planning a multi-month campaign, sometimes it helps during month #2 or #3 to condense your monthly budget into two weeks and pause for the other two; you'll have the opportunity to collect more data and experiment with what a bigger budget can do.
If you've read this far, or you scrolled to the end hoping for two takeaways, thanks! And here they are. First, running paid ad campaigns is but one piece of a coordinated marketing effort. In some cases, it makes sense to budget for paid ads on both social media and Google; in others, one of those options doesn't really apply to your business. The best marketing plan will never just consist of an ad campaign; as we've discussed, you must consider your website's user-friendliness and SEO, and you should be using your paid ads to work in conjunction with email newsletters and drip campaigns.
The last takeaway is that this is complicated stuff. I wouldn't really recommend for any blossoming business owner to try to take on paid ad campaigns without, at the very least, consulting with some experts. There's always more to know, but here at Ruby Porter, we've had some good successes, and more importantly, we've learned from our mistakes! Go ahead and reach out to us with your questions—we're more than happy to give out lots of free advice.