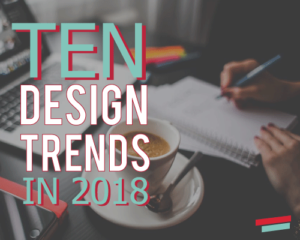 Top 10 Design Trends to Look for in 2018
2017 is in the books, so let's take a look at what design trends 2018 will have in store for us. We asked one of our designers to give us her list of design trends to watch out for in 2018.
1. Responsive Logos and Design
Mobile browsing has officially surpassed desktop browsing. The importance of mobile responsive websites has never been so relevant.
Logos should be responsive as well. For example, Responsive Logos has put together a collection of logos from large companies, and the logos are responsive (meaning they change based on the size of your screen). If you view the page on a desktop, you can see this by changing the size of your window.
2. Bold Colors
Use of vibrant and brave colors that are reminiscent of the 80's and 90's has become increasingly popular each year. I guess the old adage is true; history does repeat itself.
Gradients combining two bold colors (made popular by Instagram is 2016) aren't going anywhere soon either. Large companies such as Spotify and Medium have been choosing to switch to bolder colors as a way to stand out from their competitors.
3. Duotone
Duotone, a concept taken from traditional photography, is putting two different colors on top of a photograph.
Spotify has made duotone a main component of their aesthetic and is credited with making this trend so recognizable and popular. Duotone has the ability to simplify an image, make text more readable, and establish heightened contrast.
Made for the University of Monterry by Isabel Beltran and Pamela Sada
4. Cinemagraphs
A cinemagraph involves mixing together a video and a photograph. Many websites are choosing to use cinemagraphs in place of the long popular hero image.
Cinemagraphs have also become popular for use in marketing campaigns by businesses such as Coca-Cola, Chanel, and Netflix. Cinemagraphs are a great way to add more interest to your homepage without having too much distracting movement.
5. Semi-Flat Design
Flat design became popular in 2013 as a way to achieve efficient minimalism and to not date design too quickly.
We are starting to see a shift back toward a more three-dimensional design aesthetic. Semi-flat design involves designers adding subtle shadows and 3D elements to give more depth to their graphics.
Made for LitsLink by Bachoo Design Studio
6. Creating Depth in Web Design
Much like the rise of semi-flat design, web design is also gaining more dimension.
Drop shadows and parallaxing effects are being used as a way to create depth and a sense of space on the page. Parallaxing describes having two layers that float or overlap each other on a page and scroll at different speeds.
By adding more depth to websites, the UX (user experience) of the site is more engaging and draws attention to the parts of the website that are most important.
Visit the site for the full effect.
7. Custom Graphics and Illustrations
Companies are using one of a kind graphics and illustrations to share their story, guide users through their site, and to fill empty spots on their websites.
It can be hard to make your company seem unique through stock photos alone, so many companies are opting to use custom illustrations to convey their unique story and stand apart from their competition. Using custom graphics helps companies be perceived as more human and relatable and is a great way to show complex ideas in a simpler way.
Illustration for Shopify by Meg Robichaud
8. Animation
Animated logos and icons are a way to create emphasis and draw in the eye. Subtle animation in banner ads can be used as a way to draw attention and create enthusiasm without adding too much distraction or visual noise.
It is no longer the age of the bright blinking "Click Here" buttons! Micro animations are great for enhancing brand experience, showing hierarchy, revealing change, and showing affirmation when a user completes a form.
Logo by Fraser Davidson
9. Authentic Stock Photography
Stale, oddly posed stock photos are quickly losing their popularity and are being replaced with more authentic and warm photography.
Stock photography is becoming more creative and mimicking real life. This helps brands seem more relatable, sincere, and enhances the brand experience. Gone are the days of the cheesy stock photos of men in business suits and fake smiles.
Versus a more authentic interaction with an animal
10. Micro-Interactions
Micro-interactions are small gestures of affirmation when using platforms or apps that let you know you have completed or progressed in your action. If done well, micro-interactions are not obvious and can be overlooked. These can be loading graphics, pop-ups, or even just the color changing when you hover.
By Gur Margalit
What design plans do you have in 2018?
Whether it's a new website or a new logo, Ruby Porter can help you get where you're going.
Contact us today about your upcoming projects to see how we can help you make them a reality.