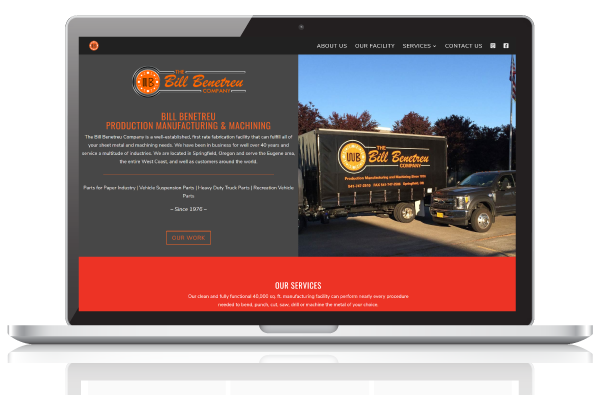 Bill Benetreu Company
Bill Benetreu Company has been a leading production manufacturer and machining company for over 40 years servicing a multitude of industries. They serve customers around the world. With manufacturing services including laser cutting, pipe bending, welding, and metal fabrication, if you dream it, Bill Benetreu Company can make it.
Benetreu's site was on Wix, which had some SEO limitations and the design lacked responsiveness to different screen sizes. The initial reason for this the switch was Bill Benetreu Company separated their pulley manufacturing and machinery to be done under a second company, Benetreu Pulleys, so they wanted to remove the pulley and machinery content from the website and into a new site. We (very happily) moved BBC's website from Wix over to a WordPress environment and removed all of the pulley and machine content and reprioritized everything that remained. Of course, we made sure that the new site looks good and functions at each screen size.
Launched February 2021