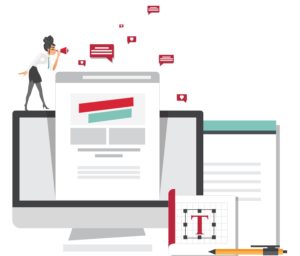 Does My Business Really Need a Blog?
Do people even read blogs anymore?
Yes! Blogging is still popular in 2018. While trends on the internet are always changing, people will always be seeking quality, well thought out content that is informative, entertaining or answers a question or problem the reader may have. Answering common questions in an entertaining way can build a platform for telling your company's story to a large audience of potential customers.
Can't I just use social media?
We aren't here to tell you what you can and can't do but we are here to provide you with the best information possible for promoting your business. If you don't have the time to write good quality, informative, and engaging content for your blog on a consistent basis then yes, stick to social media, or better yet, have our copywriting ninjas take on the hard work.
Blogs are important because your content has a shelf life much longer than your social media posts. Blog content can be found without social media at all and isn't dependant on algorithms and begging your followers to turn on notifications.
So what are the benefits of blogging?
Companies that have blogs produce 67% more leads per month than those without. But that doesn't mean that those leads came easy. Companies that put the greatest investment (up to six hours a blog post) into their content see the greatest returns.
Boost Search Engine Optimization
Search engines are constantly checking the timestamps on when websites are updated. Publishing blog posts consistently is a natural way to keep your website fresh and updated with regular content.
Blog posts also increase the number of pages on your website, providing more opportunities for keyword use.
Blog posts help with indirect SEO, meaning anything that influences your visitors to behave in ways that tell search engines that your site is valuable and a good resource. This can include inspiring visitors to engage with your site for longer periods. Providing visitors with quality content will lower your bounce rate and influence people to spend time on your site- telling google that your website is a good place to send people.
When you have quality blog posts you also encourage inbounding links (when other websites link back to your website). Search engines see these links that direct users to your website as a vote in confidence in your content. Adding inbound links to your own blog content also helps search engines understand what your site is about.
Develop a Relationship with Potential and Existing Customers
Blogging is an active way to encourage people to connect with you. By publishing consistent and great content you encourage your visitors to engage with the content that you are posting. This can be accomplished by asking your readers a question at the end of your blog post, adding a clear call to action, or simply allowing comments or feedback.
Establish your Business as an Industry Leader
By providing well thought out and informative information and your expert advice you position yourself as an industry leader. If you consistently provide valuable and expert information you will become your reader's go-to source for information. This can be very valuable for a small business looking to gain credibility especially when competing with large companies.
Connect People to Your Brand
Blogging is a great way to show your company's personality and culture all while humanizing your brand. Most brands understand that posting industry-relevant content is a good way to engage their audience, but it can also lead you to get lost in a sea of content. A great way to help your company stand out is by posting fun happening in your office or life and reminds your readers that there are humans being the operation of their favorite company.
People trust people more than they trust companies. Help them remember who you are as an individual and as a result, you'll promote loyalty and trust in your team.
Create Opportunities for Sharing
When you create excellent thought-out and meaningful content your readers are more likely to share this content with their friends if they think that it is valuable. This could be through social media, email, or linking from their own blog. No matter what way it is shared it is free marketing and validates you as a credible business.
If you are interested in creating a blog for your business and you aren't sure how to get started? We can help. Ruby Porter Marketing and Design offers a variety of web design and digital marketing solutions for your business. Are you busy running a business and don't have time to blog, create thoughtful and informative information, and update your social media regularly? Contact us to see how our talented copywriting and content creation team can help your business succeed.